Vocational Activities
Identification and early intervention of mentally challenged children.
Advocacy & counselling to parents and community.
Vocational training and education for mentally challenged children with other extra- curricular activities.
Acupressure, Yoga Classes, Horticulture, Dance and Music, Art and Craft Training given to make them self reliant and to give them status of living.
The vocation is finalized by the vocational instructors after observing the child's aptitude, ability, skills, interest and physical condition. At present there are the following vocational activities are available: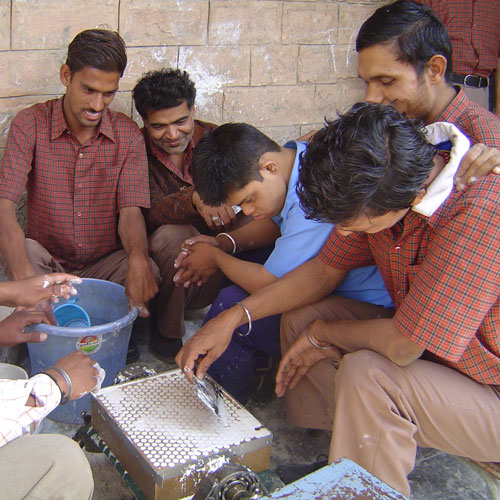 Chalk Making
All older children male who joined the school in their later age form this group. They are engaged in making white and colored chalks under the supervision of vocational instructor. The final product is then supplied to various educational institutions as per their demand.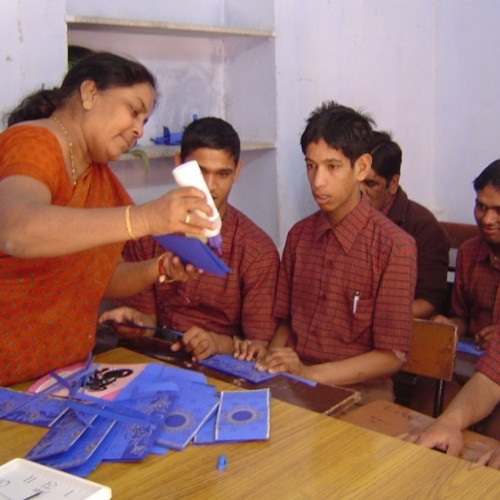 ART & CRAFT
our students have a good hand on envelope making, paper bags, greeting cards, Diyas, Mala, folders etc. Children under this vocation also make flower garlands, Rakhi's, bandanwars, curtain hangings, artificial jewelry, friendship bands, kakandora etc. all these items are highly in demand.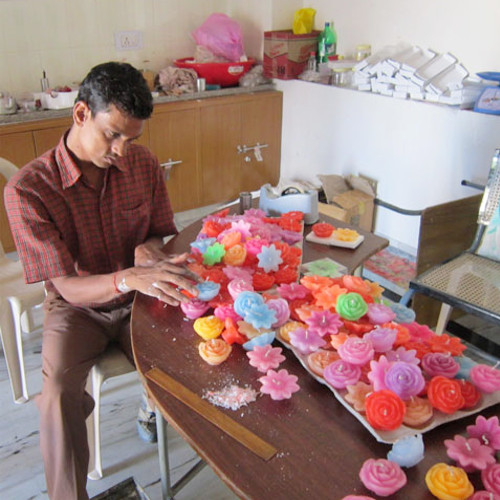 Candle Making
Our students are trained to make variety of candles (floating candles, gel candles, candles with different shapes and sizes). Candles are made with a lot of precision and while abiding by safety measures.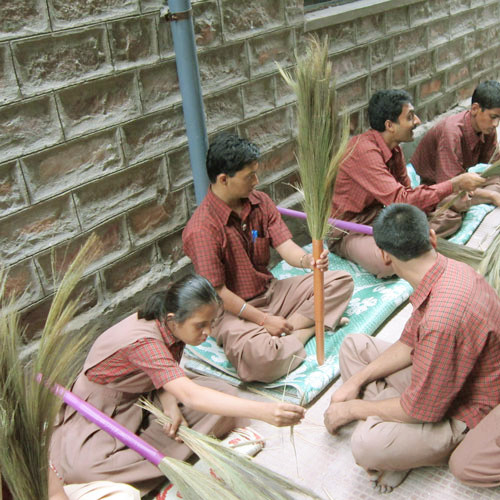 Broom Making
A few of our children are being trained in making Brooms under the supervision of the instructor, who is trained skilled worker. Our children are able to make 40-50 broom in a day these brooms are sold to the shop keepers, schools and individuals.
Chocolate Making
Recently we have started making handmade chocolates in school. Under the guidance of vocational trainers our children have started making variety of chocolates, which is good in demand.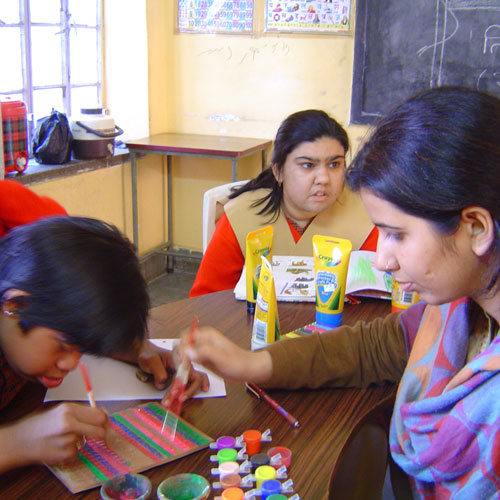 Handicarft & Painting Work
Few of our children have very good hand over painting and handicraft items. They paint Diyas, envelopes, paper bags etc. and then with their creative mind they decorate these items.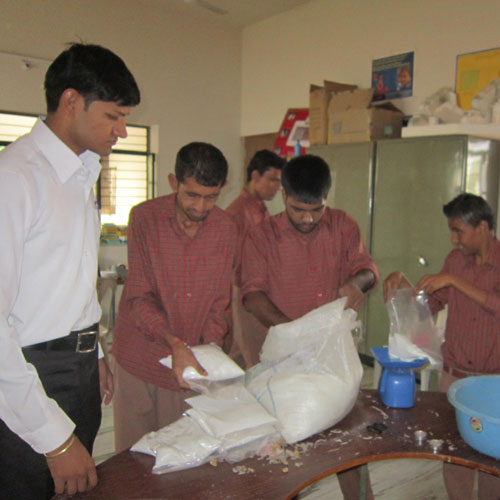 Detergent Powder Making
We also have students who make detergent powders under the assistance of trained teachers. The quality of detergent is very good along with nominal price, has got a good demand in market. All these products are being further sold to different small scale to big scale institutions. We are actively participating in various exhibitions under the guidance of trained and skilled vocational teacher along with the children to sell the products. We are also conducting mini melas, wherein students from different schools visit us and buy our products.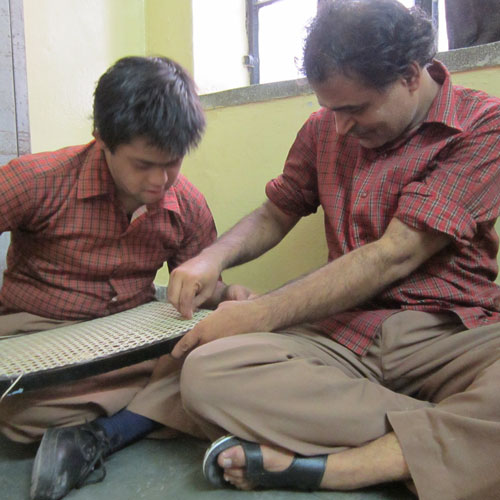 Canning & Furniture
Some of our children receive training for doing canning work. We receive regular orders for repairing of chairs & furniture's.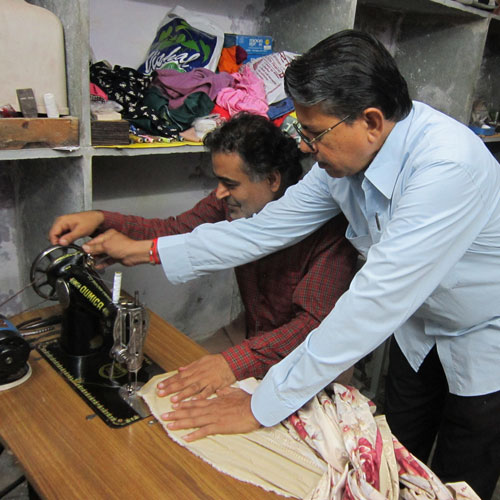 Tailoring
Girls of educable group received training in tailoring (simple straight line machining), they also learn needle work & plain stitch, hemming, button fixing, hook & eye making etc.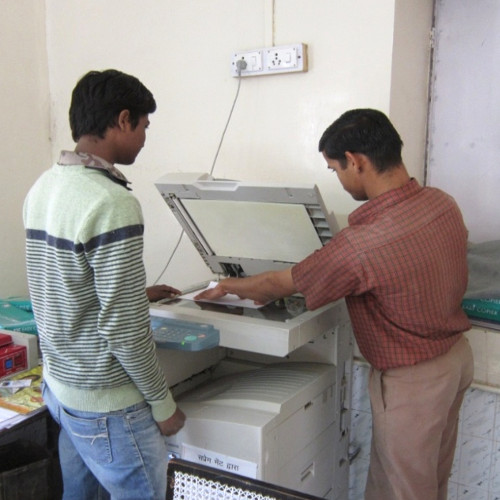 Photocopy & Laminations
Our new vocation of photocopy, lamination & spiral binding is working out well among our children. Our four to five children are under the training for learning this vocation.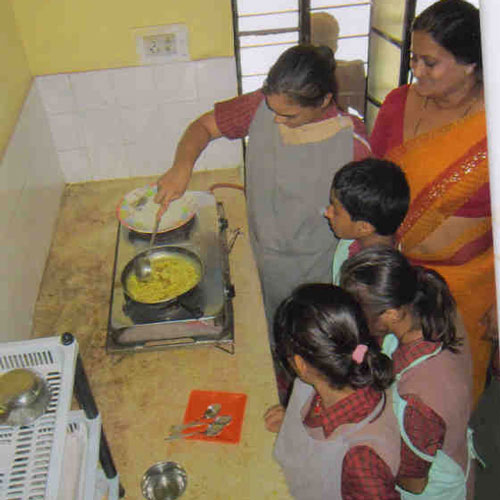 Kitchen Activities
Educable group of girls who are self reliant, undergo this training program. In kitchen activities, girls get training for making beverages like tea, lemon squash, Roohafza, simple breakfast like poha, sandwich, upama, uttapam, maggi etc, They also get training for sorting, cleaning & cutting of vegetables, preparation of chappaties & Parathas. Non educable group of girls get training for doing domestic work like cleaning, dusting, arranging of utensils & replacing utensils on the stand & keeping of kitchen accessories in proper place.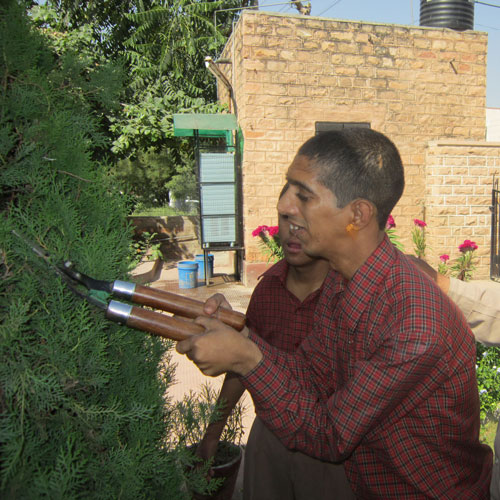 Garden & Gardening
School children are also engaged in kitchen gardening, seasonal vegetables like spinach, brinjol, green chilies, lady finger, corn, cauliflower, beans, carrots, Biller gourd etc. are grown & consumed in the hostel kitchen. Other than vegetables, lemon, papaya, sitaphal etc. are also grown in the kitchen garden.