Events
2013-12-24

: Celebration of Chrismas Day
Chrismas Day was celebrated with full vigor and enthusiasm. The member of Grow Organization and other social organizations participated in this programe. Students Mansi and Narayan gave their dance performance on the song "Jingle Bells" social workers came dressed up like Santa Claus, distributed gifts to the students. Children were given refreshment by the members of GROW Organization.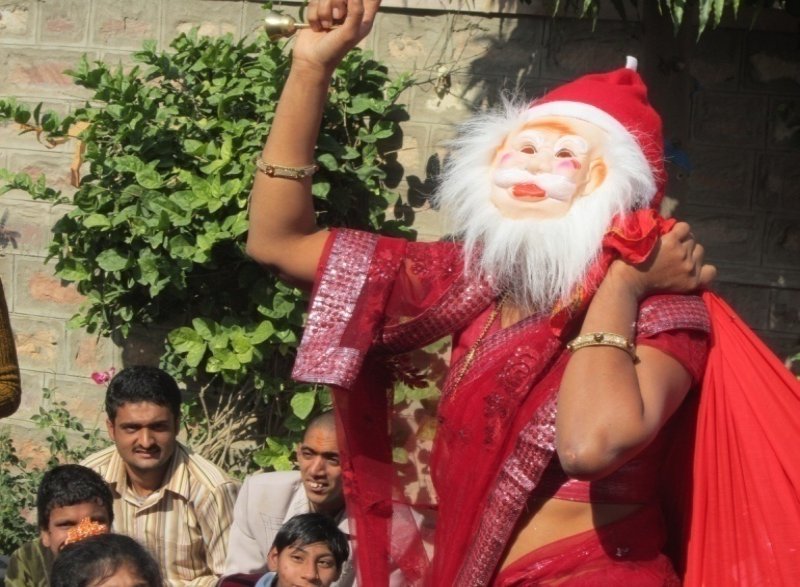 ---
2013-12-21

: Visit to Saint Patrick's School
25 student of the institute visited Saint Patrick's School. The children were welcomed by flowers, chrismas was celebrated with full enthusiasm Hostel Respites Mansi Rathore and Pooja and school student Narayan danced on songs and carols of Chrismas.
---
2013-12-20

: Visit of the students of Ajay Leela Vishishtha Siksha Prashikshak
Students of Ajay Leela Vishitha Shiksha Prashikshak doing Diploma in visual Impairment visited the institute and gathered information about the children of the Institute.
---
2013-12-18

: Distribution of T.LMs
T.L Ms were distributed for 56 students by HA PSE/TAPSE Institute.
---
2013-12-07

: Parents Teacher's Meeting
Parent's teachers meeting was held on 07.12.2013 in which parents andamp; teachers discussed about the progress of the children andamp; future plans for the development of children.
---
2013-12-03

: World Disability Day
A rally was organized by Department of Social Justice andamp; Empowerment and Sarv Shiksha Abhiyan in which 25 of our students participated with three of our teachers The rally commenced from Rajasthan High Court, Jodhpur and ended at Goushala Maidan where various sports competitions were organized in which our children participated and won many prizes.
---
2013-11-28

: Visit of the students of Saint Patrick's school
The students of Saint Patrick's school visited the institute on 28.11.2013 to gather information about our students. They donated stationary items for our students.
---
2013-11-10

: Celebration of Children's Day
The students of Mittal Seva Sansthan (Medical students) celebrated the birthday of "Chacha Nehru" with our students. They organized games for the children like lemon race, Musical Chair etc. A Quiz prgramme was organized in which questions regarding Nehruji was asked from children. In the end students of Medical college pressnted sports equipments like bat, ball, badminton rackets andamp; shuttle corks, football etc. for the students.
---
2013-10-28

: Celebration of Deepawali
Deepawali was celebrated with full vigor and enthusiasm. The chairman, vice chairman andamp; principal of institute performed poojan of Goddess Lakshmiji, Lord Ganeshji and Goddess Saraswatiji and told to the children the importance of the festival of Deepawali. All the children burnt the crackers and ate sweets.
Plantation of Plants: The teachers of Pre-Primary A andamp; B category students explained to the girls the process of plantation of plants. The children were made to fill disposable glass with soil, inserted the seeds of barely and watered it.
---
2013-10-26

: Products Sale
A stall of the products of vocational center made by our children was displayed in a stall at Saint Patrick's school where the teachers of the school purchased our products in large numbers.
---
2013-10-02

: Gandhi Janyanti
The students of M.Sc Home science, Jai Narayan Vyas University Jodhpur celebrated Gandhi Jayanti. The programme commenced with Ganesh Vandana, students gave information about Mahatama Gandhi andamp; Lal Bahadur Shastri. The life story of Gandhiji was told with the help of Photographs. The smaller children danced the song " Ragupati Raghav Raja Ram". Chairman of the Institute told about Mahatama Gandhi.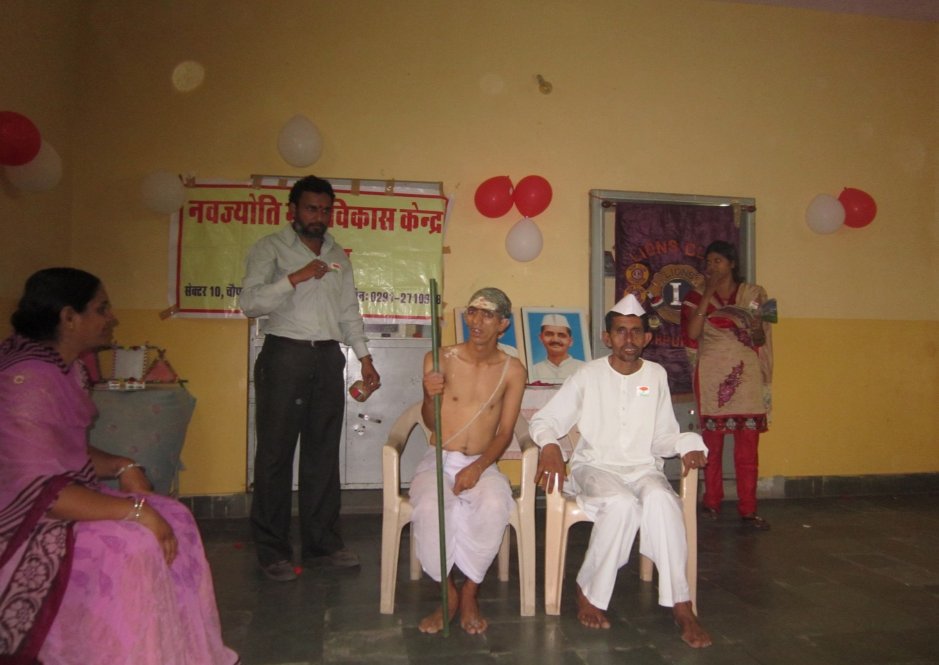 ---
2013-09-30

: Meeting of School andamp; Children with Mr. Amitabh Bachchan
Celebrity Mr. Amitabh Bachchanji while attending the convocation programme of Jodhpur National University met with our special Needs children. Our 30 children met him welcoming him with flowers.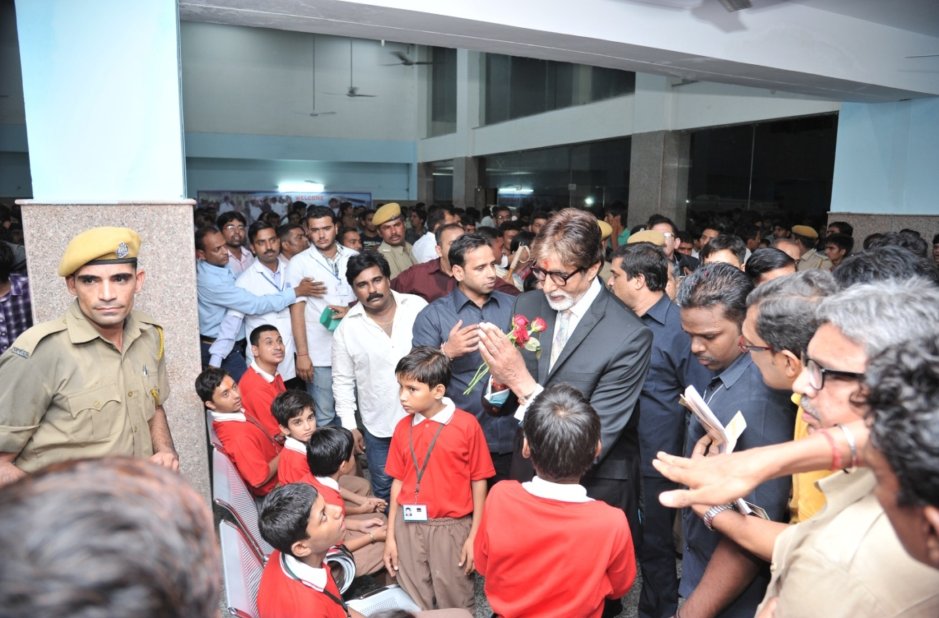 ---
"State Disability commissioner" Madam Renu Singh visited our school andamp; observed all the activities conducted for school children.
---
2013-09-21

: Dental Checkup
A camp was organized by the Rottary club for the Dental cheek up of our school children andamp; tablets of iron, calcium etc. were distributed among the children.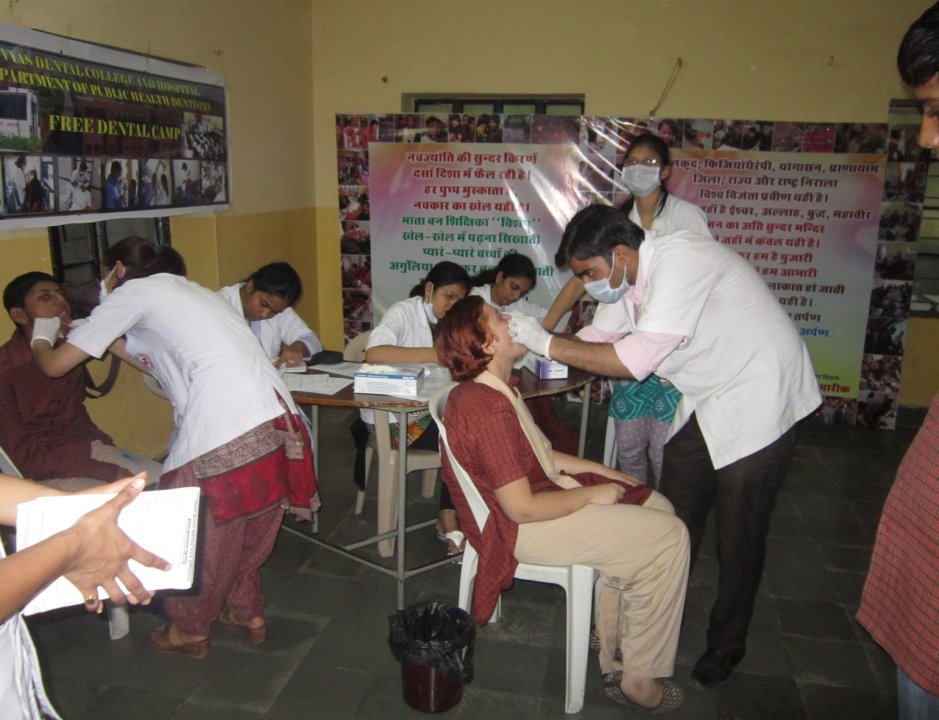 ---
2013-09-17

: Visit by Disability Commissioner
On 17th September, Shri Prassan Kumar Pincha, Chief Disability commissioner visited our school andamp; observed the activities performed by the children.
---
2013-09-05

: Teacher's Day
In the memory of Dr. Radhakrishnan's Birthday School celebrated "Teacher's Day". All children played musical chairs game andamp; chairman of the school gave his best wishes andamp; blessings to all the teachers.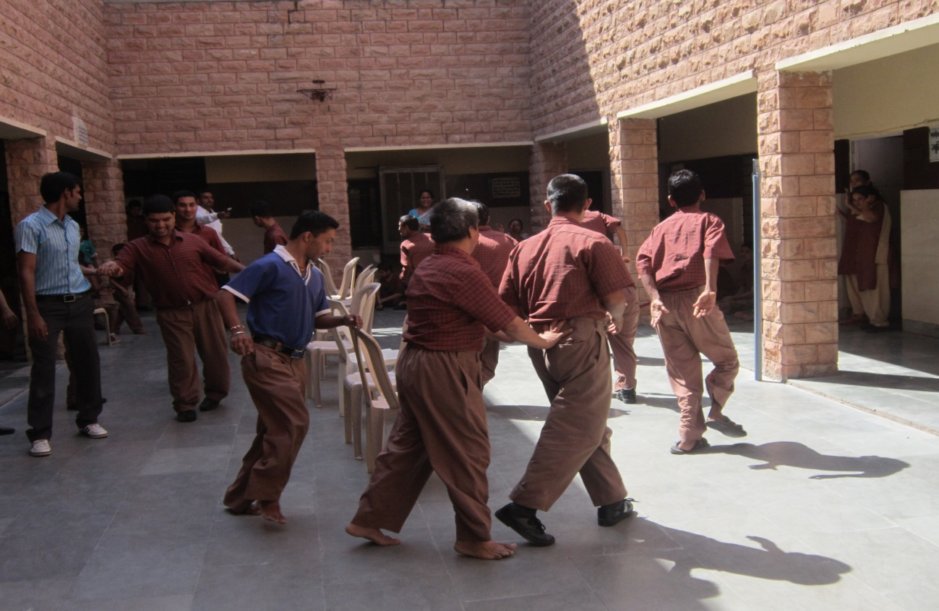 ---
2013-08-27

: Janamashtami Celebration
Janamashtami festival was celebrated by the school children in the school. Children were given brief introduction about Lord Krishna. Principal andamp; all teachers performed Pooja for Laddu Gopalji andamp; they sang Bhajans. Hostel respite Pooja andamp; Digvijay Singh performed dance.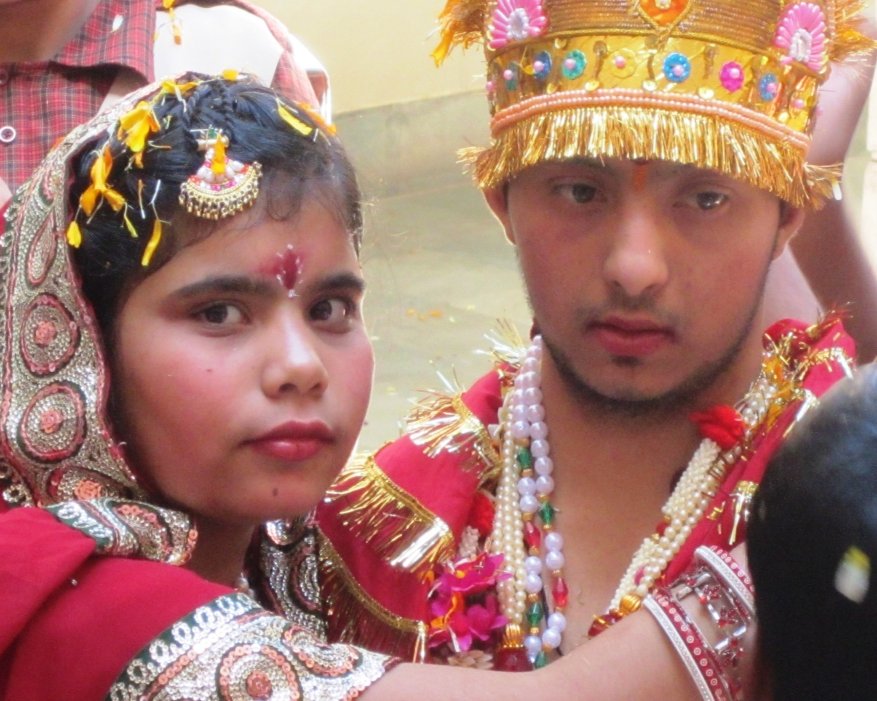 ---
2013-08-20

: Rakhi Exhibition andamp; Sale
An exhibition of Rakhies was organized at St. Patrick's school by the vocational teacher andamp; children. Teachers of St. Patrick's purchased our large number of Rakhies andamp; they appreciated their design andamp; encouraged our children.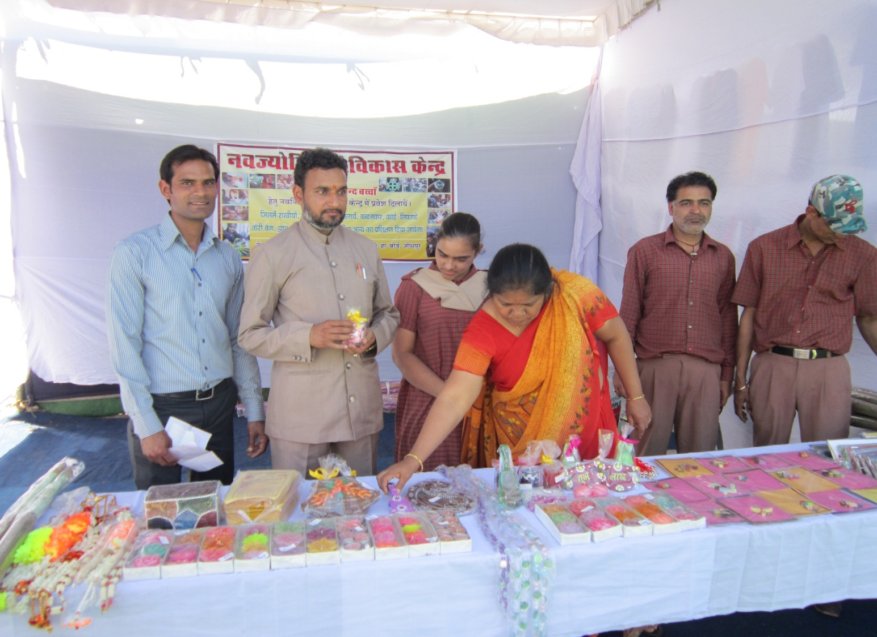 ---
2013-08-15

: Independence Day
Independence Day was celebrated by the school children and school management beginning with "Maa Saraswati andamp; Bharat Mata Pooja" followed by flag hoasting. Children performed P.T. and cultural Programme.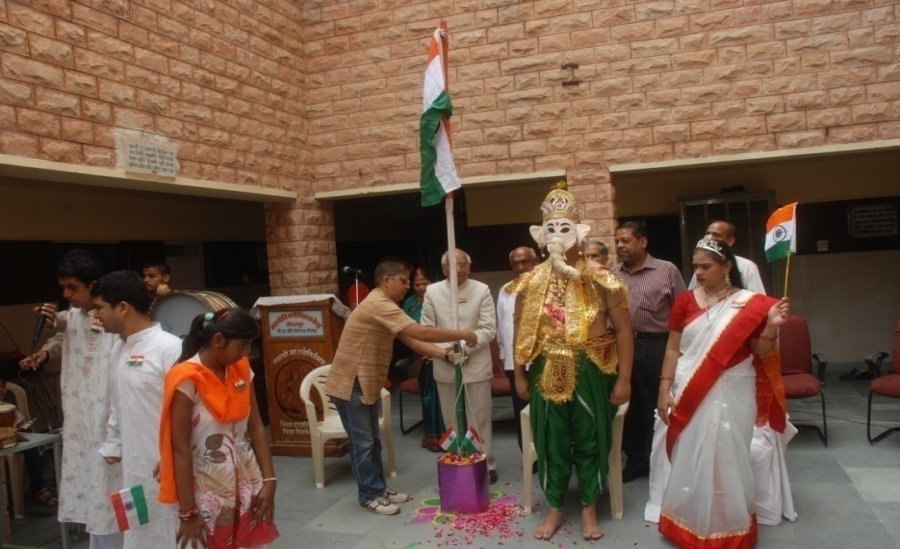 ---
2013-08-04

: Phir Khuli Jeewan Ki Rahae
On 4th August, Rottary Club in association with mental upliftment need society people celebrated function with school children.
---
2013-08-03

: Celebration of Friendship Day
Members of "Grow Sansthan" celebrated Friendship Day with our school children. Children performed dance along with the music with their full energy. Grow Sansthan members tied the friend ship band on children's hands. Children enjoyed the entire function with great excitement andamp; joy.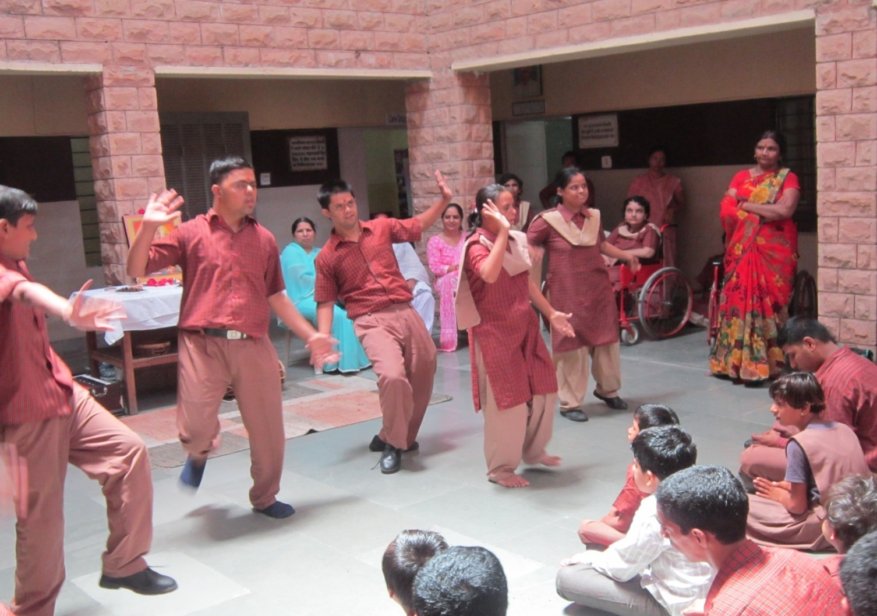 ---
2013-07-28

: Recognition AND Recall of objects & things
In one big Tray few objects like pen, pencil, small diary, some toys of animals, models of fruits andamp; vegetables were shown to the participant for 2 minutes andamp; then they were covered with the cloth. Each participant was asked to recall the objects they had seen and remembered.
---
On 27th July, school organized a "Lemon Race" competition among school children. According to age, groups were formed andamp; in each race six children participated. All winners of six groups then finally participated in the final round.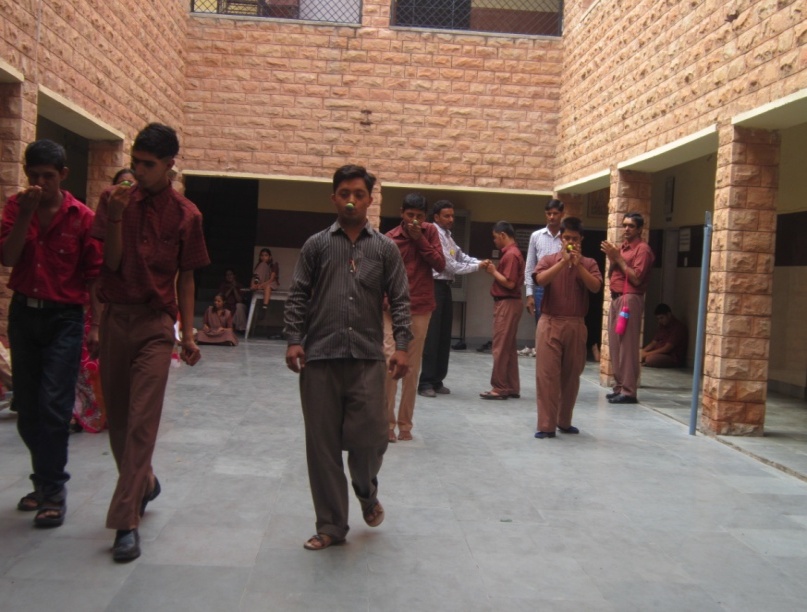 ---
Bori Race was organized in the school in that 40 students activity participated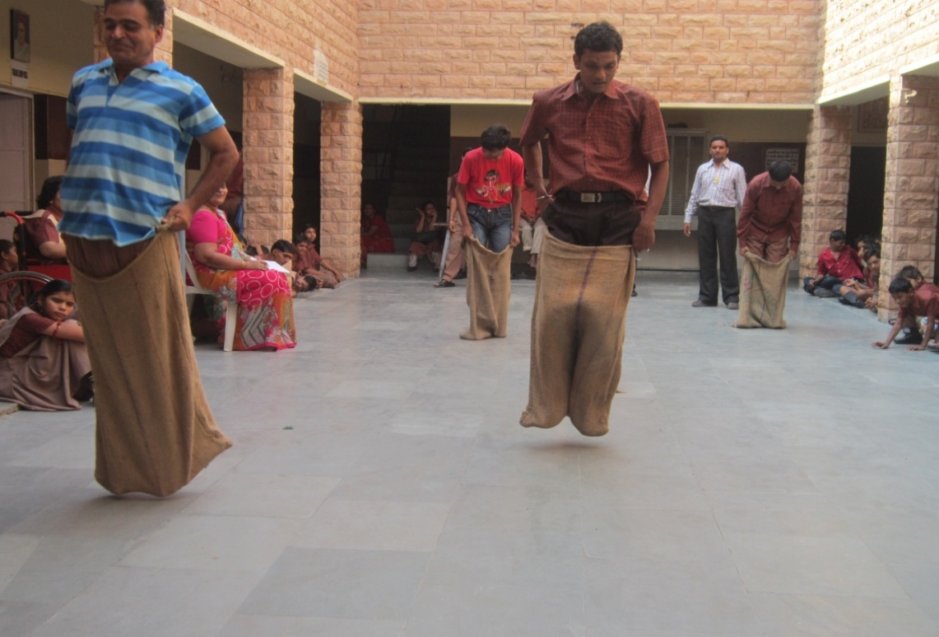 ---